Ed Davey: Repair our broken relationship with Europe to prosper
The UK must "tear down" trade barriers to prosper, Sir Ed Davey says at his party's conference.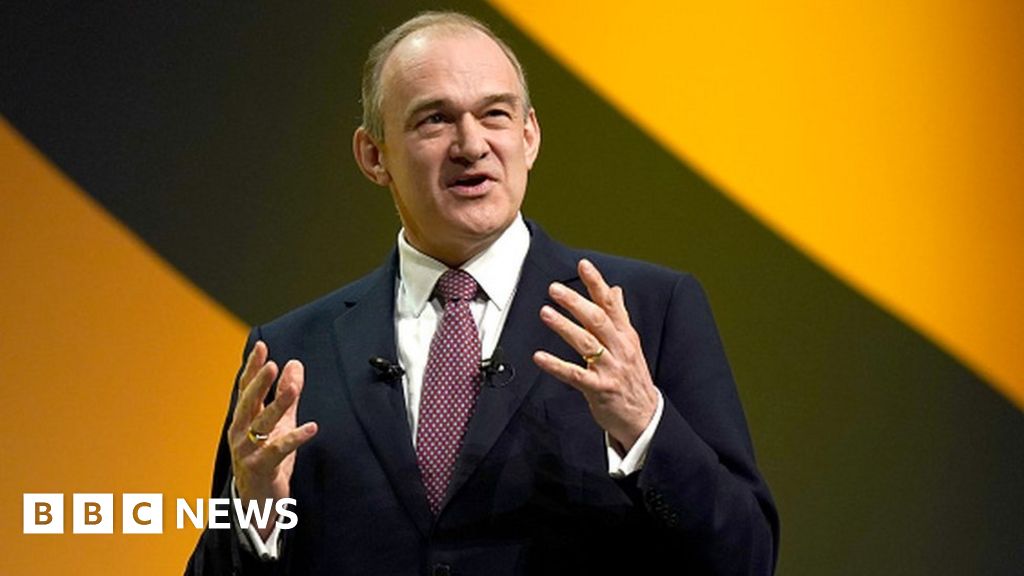 About sharing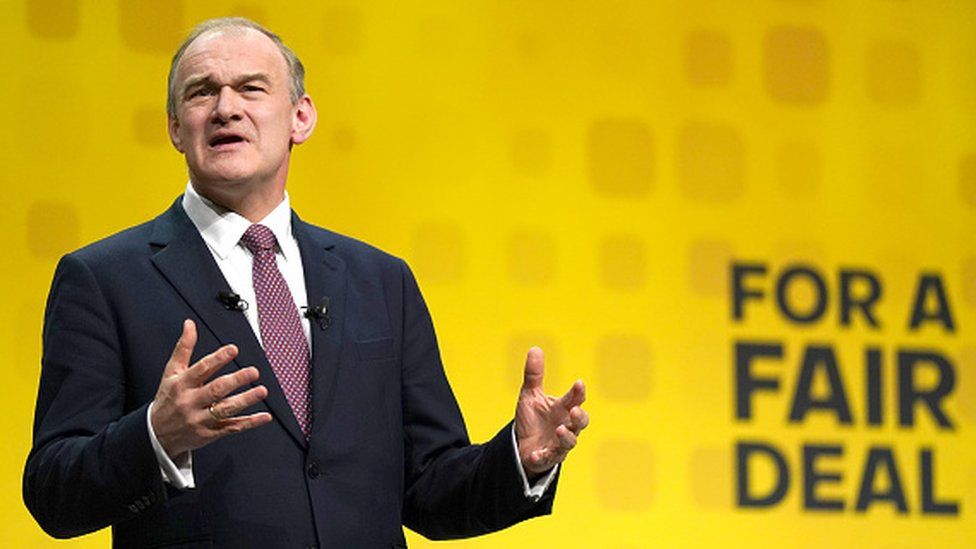 By Paul Seddon
Politics reporter
The UK must "repair our broken relationship with Europe" to boost its economic prospects, Liberal Democrat leader Sir Ed Davey has said.
Sir Ed set out his pitch to voters on key policies at his party's spring conference ahead of local elections in May.
He spoke of his plan to "tear down" trade barriers and fix the Conservatives' "botched" Brexit deal.
He also talked about the party's vision for the NHS and electoral reform.
In an address in York that did not outline any new policies, Sir Ed talked about his own values and where he wants to take the party.
"We are the party of hope over fear," Sir Ed told the conference.
"And - as Liberal Democrats have always been - we are the big thinkers with the vision to see past current crises and paint the future we want to build."
The Lib Dems are planning to target Tory-held seats across the south of England in upcoming local elections and at the general election, expected next year.
They want to attract votes from liberally minded Conservative and Labour supporters in these often rural areas which they have dubbed the "Blue Wall".
Although they won three by-elections in Tory areas last year, their national poll ratings are only around 9%. They currently have 14 MPs.
Sunday's event was Sir Ed's first speech to a full conference since taking over as party leader in 2020.
He had been planning to deliver a speech at the party's autumn conference last year, but it was cancelled after the death of Queen Elizabeth II.
It came after leaders' speeches to other conferences during the Covid-19 pandemic were scaled back or delivered mainly online.
Internationalist pledge
Sir Ed said the party would seek a closer economic relationship with Europe to "fix Britain's trade" if it was in government.
"If you want to boost our economy, you have to repair our broken relationship with Europe," he said. "You don't need me to tell you what a disaster the Conservatives' botched deal with Europe has been for our country."
Action against sewage spills, which the party has put at the centre of its campaigning over the past year or so, was cited as an example of the party's commitment to "community politics".
The Lib Dem leader, who served as a cabinet minister with the Conservatives in the coalition government, also sought to burnish his internationalist credentials to draw a dividing line with the Tories.
He attacked Prime Minister Rishi Sunak as "unpatriotic" for cutting UK foreign aid spending as chancellor in 2021, and described the government's latest asylum bill as "appalling".
His party argues aid spending should be returned to the 0.7% of GDP benchmark immediately.
It sees this as a point of difference with Labour, which says it wants to return to 0.7% but has not yet set out a target date for doing so.
Sir Ed also talked up his party's support for ditching the UK's first-past-the-post system for parliamentary elections, underlining that his party has supported electoral reform "for a hundred years".
"Our zeal for proportional representation remains undimmed today," Sir Ed said. "Conference, we will make it happen. We will make fair votes a reality."
Labour members backed calls to change the voting system at its party conference in September - but the policy is not expected to be in the party's election manifesto.
Related Topics
More on this story