Labour could require solar panels for new builds, hints Ed Miliband
Shadow climate secretary Ed Miliband said a "rooftop revolution" could help meet climate targets.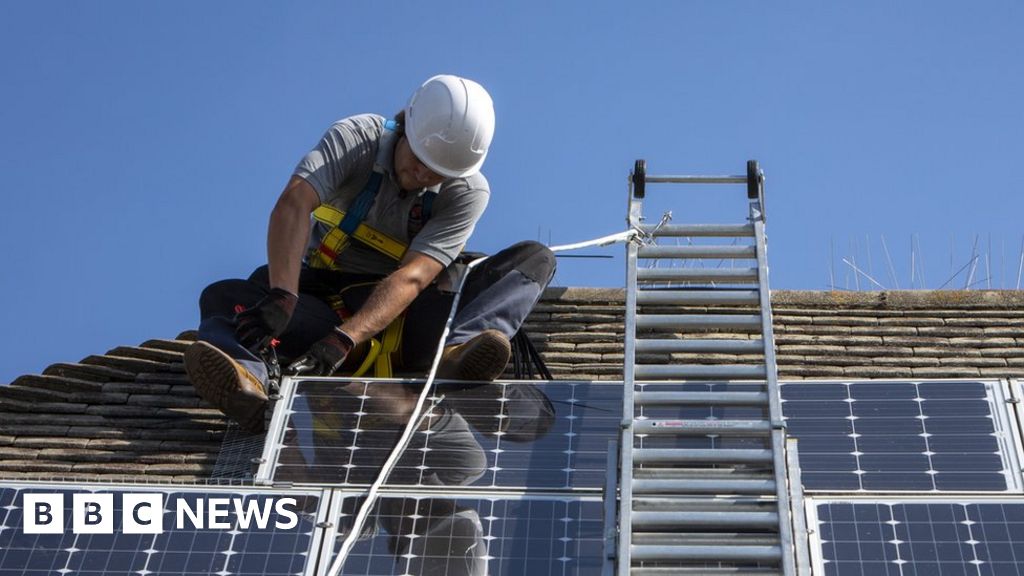 About sharing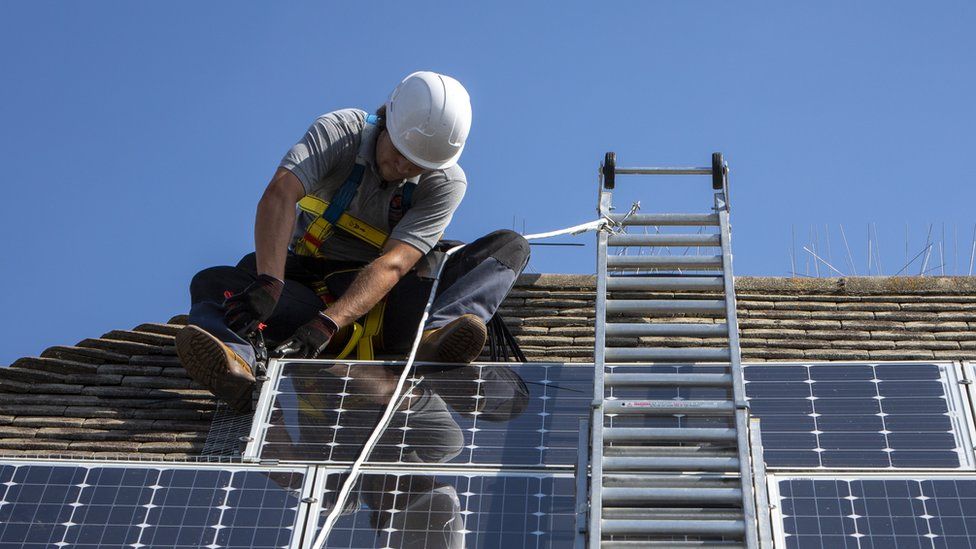 By Paul Seddon
Politics reporter
Shadow climate secretary Ed Miliband has hinted that Labour could require newly-built homes to have solar panels on their roofs if it wins power.
Speaking after a speech on green investment, he said his party was "very interested" in the idea, adding: "Watch this space, we'll say more about this."
He added solar panels presented a "huge opportunity" to boost green technology.
The government has cut taxes on domestic solar panels and says it is looking at other ways to reduce costs.
Reductions in the cost of installation in recent years has made them a more attractive option for homeowners trying to reduce rising energy bills.
New carbon-reducing requirements for new builds in England, however, do not make any particular technology compulsory. A consultation on future rules is due to begin this spring.
Mr Miliband made his comments after a speech setting out Labour's plans to introduce a "British version" of US President Biden's multi-billion dollar blueprint to subsidise new green industries.
The plan, signed into law last year, has sparked warnings from British ministers about a slide into protectionism.
However, Mr Miliband said these worries were "overblown," and the UK needed to invest more to avoid falling behind in a "global race" to attract jobs in sectors such as electric car manufacturing.
Asked whether his party would to pass new legislation requiring solar panels on new builds, he replied: "On the solar rooftop revolution, that's something we're very interested in."
He did not give details of what the party might be considering, but said: "Watch this space, we'll say more about this.
"I think it's a huge opportunity on commercial premises, and huge opportunity in the home as well," he added.
'Additional housing crisis'
The government says it has promoted solar technology through a VAT cut on installation costs, streamlined planning rules for domestic properties, and grant schemes.
Ministers have also said they are working with lenders to develop low-cost finance options for homes and small businesses willing to borrow to invest in the technology.
But speaking to MPs earlier this month, Climate Secretary Grant Shapps argued making them mandatory could harm innovation in other technologies, and push up the cost of new housing.
He also argued that introducing new rules now could lead to an "additional housing crisis" due to global demand for the minerals required to make them.
Brian Berry, chief executive of the Federation of Master Builders, said Mr Miliband's comments were "laudable," but added any new requirement would have to bear in mind the impact on the "cost and viability" of new homes.
He added that at a time of rising living costs, the "bigger challenge" was to make homes more energy efficient.
Another industry body, the Home Builders Federation, said solar panels were already being widely used and would soon be included on the vast majority of all new houses.
Related Topics
More on this story