Smart glasses at Basildon Hospital speed up procedures
Basildon Hospital is using the technology during heart procedures to connect remotely to experts.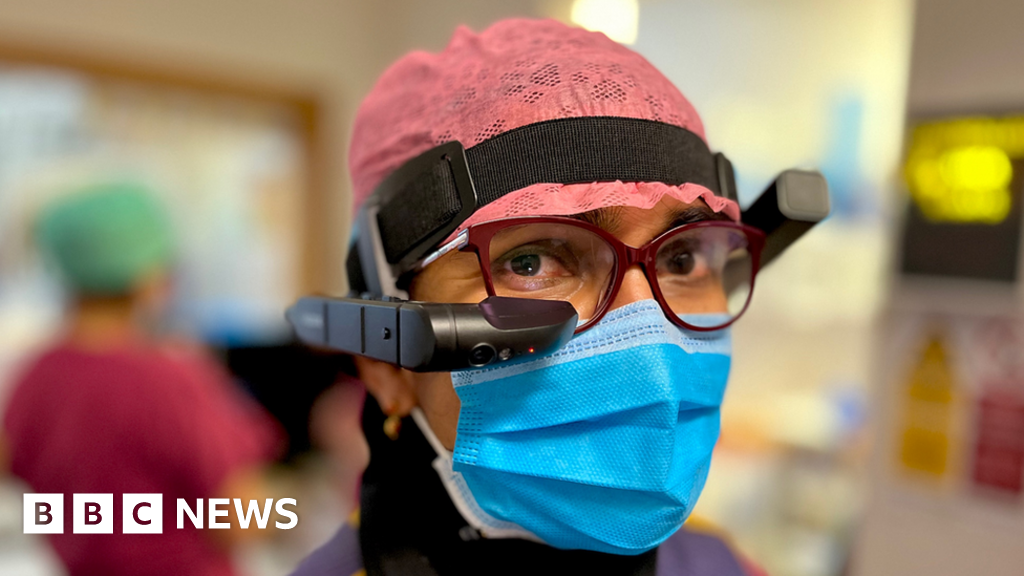 About sharing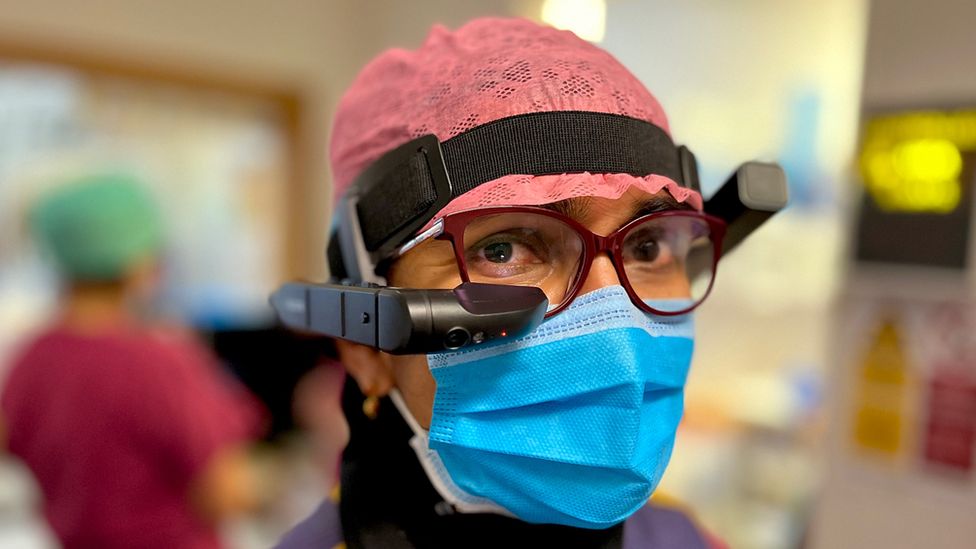 Smart glasses are being used at a hospital to help reduce waiting lists for heart procedures.
Staff at Basildon Hospital wear a high-resolution camera and earpiece to connect with experts remotely.
The hospital is the first in the UK to use the set-up when patients are having faulty heart valves replaced.
Sister Sindhu Thomas said: "It is really clear. I can see the pictures they are sending and ask about anything I need explaining."
Basildon is the UK's first hospital to use the smart glasses for transcatheter aortic valve implantation (TAVI) heart procedures which replace diseased heart valves.
The glasses share live video and audio with industry experts - based in Hemel Hempstead and sometimes overseas - who can zoom in on pieces of medical equipment and give advice ahead of and during surgery.
Staff get step by step help from the industry experts who can see exactly what's happening in the operating theatre.
Technological solutions
Cardiologist Dr Christopher Cook said the glasses also allow experts to supervise multiple procedures simultaneously in different locations.
"We can have complete independence in listing as many patients as possible.
"What we've done is thought about innovative technological solutions to allow us to do this without a human being present in our hospital," he said.
When waiting lists were at their highest in 2021 between July and September, the average wait time for TAVI procedure at Basildon Hospital was just over seven months.
This has since come down to two-and-a-half months, based on the most recent available data from October to December 2022.
Dr Cook added: "The reduction has been achieved with the same amount of working space but [through] improvements to the efficiencies we can achieve."
The smart glasses also mean staff can be trained remotely.
Dr Rohan Jagathesan, medical director at the Essex Cardiothoracic Centre, said: "This new innovative equipment allows us to be more independent and to carry out more procedures, and means we can treat patients more quickly as we don't need a specialist to come to the hospital."
The ECT has made other improvements that have helped to speed up waiting times, including a new CT scanner.
It will also have a new £2.3m specialist surgical room in the spring, doubling current capacity.
Biomedical engineering firm Boston Scientific provides the support for the smart technology and Chandan Johal, remote technology lead, hoped it would be used for other procedures in the future.
"For the NHS, it just opens up a whole new world of receiving real time support, receiving education and connecting with other world class centres."
Find BBC News: East of England on Facebook, Instagram and Twitter. If you have a story suggestion email eastofenglandnews@bbc.co.uk
Related Topics
More on this story