SNP leadership: Decisions need to be made by 'big team', says Forbes
SNP leadership candidate Kate Forbes says party members want to know the institution is democratic.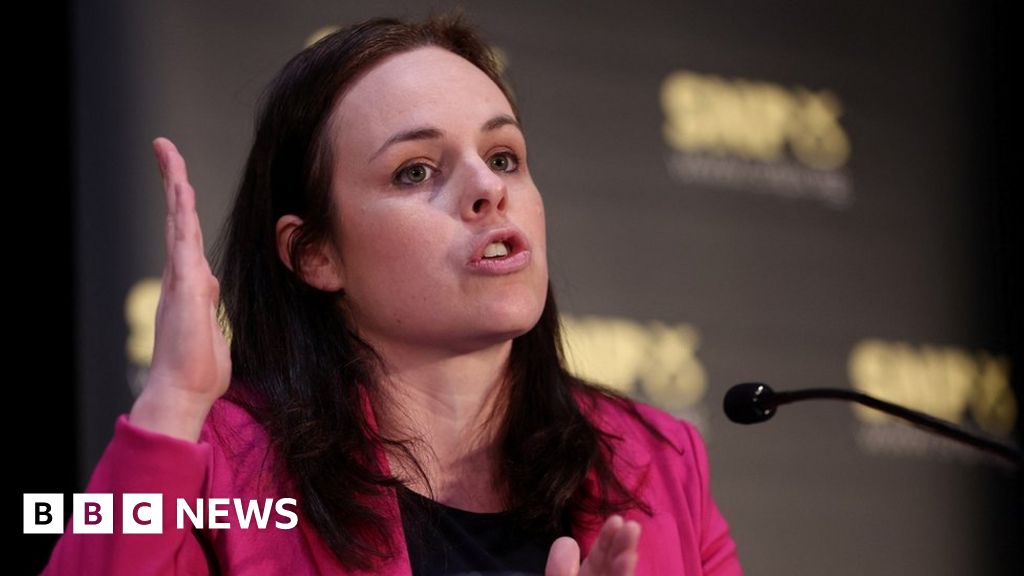 About sharing
SNP leadership candidate Kate Forbes has said decisions within the party need to be taken by "a big team" rather than a few people.
She told Laura Kuenssberg that SNP members want to know that the institution is democratic.
Her comments follow the resignation of SNP chief executive Peter Murrell.
He took responsibility for misleading the media about party membership numbers and said he had become a distraction to the leadership race.
All three candidates vying for the leadership of the SNP have pledged to reform its operations.
Humza Yousaf promised an internal shake-up from day one telling the BBC: "There needs to be internal reform within our headquarters, of that there is simply no doubt.
"I've said from day one, since I launched my campaign, that internal reform is very much needed and certainly I will be looking to see what I can do to shake up that operation at headquarters from day one."
The third leadership candidate Ash Regan said she was "encouraged to see the democratic foundations of the party now asserting their rightful function".
She added that the SNP's foundations were based on accountability, transparency, modernity and accessibility.
Speaking on the Laura Kuenssberg programme, Ms Forbes said: "There have been questions around, for example, the membership numbers that we've been looking for answers to.
"I think at the heart of this is that the decisions within the SNP have been taken by too few people and I think that's well recognised across the political domain.
"SNP members want to know that our institution is democratic, that they can influence it, that they can shape policy."
She added that members felt disempowered from the process.
"I think within government we need to make sure that it's a wide tent with a big team, rather than a very few people making decisions," Ms Forbes said.
On Saturday, SNP chief executive Peter Murrell resigned with immediate effect. He has been temporarily replaced by party president and former chief executive Michael Russell.
Mr Murrell, who is married to outgoing party leader Nicola Sturgeon, said he had become a distraction to the leadership race.
He had been set to face a vote of no confidence had he not stepped down, the BBC has been told.
The party this week confirmed there had been a big drop in membership numbers.
Ms Forbes said: "There has been a lot of focus in this contest about who is going to lead the party forward.
"We have a self-professed continuity candidate who says that he's going to keep doing the same things, and my response to that would be, you do the same things and get the same results."
Instead, Ms Forbes said she favoured a different approach.
"Let's put integrity, honesty at the heart, let's make the case for change and it's not just a change in terms of our policies, it's a change in terms of delivery and the culture of transparency," she said.
Who are the SNP candidates?
Ms Forbes also said that on approaching the contest, she had weighed up having a young family with future potential responsibilities.
She gave birth to her daughter in August last year and was on maternity leave when First Minister Nicola Sturgeon announced her resignation.
She said: "It might have been easier not to stand but the reason I chose to stand is because I believe that we are at a crossroads and I've got a seven-month-old baby, thankfully you can't hear screaming in the background.
"I've had to juggle a very young family with the contest but many mothers do that."
Ms Forbes added that the role of first minister should be open to anyone, irrespective of their personal circumstances.
Within a couple of days of confirming she would stand in the contest, Ms Forbes found herself at the centre of a political storm.
She lost several supporters after telling journalists she would not have voted for gay marriage had she been an MSP at the time.
Subsequently Ms Forbes told Sky News that she believed having children outside marriage was "wrong" according to her faith as a member of the evangelical Free Church of Scotland, while stressing that: "In a free society you can do what you want."
'Tolerant society'
But on Sunday with Laura Kuenssberg, she addressed the gay community, saying: "I give you an honest pledge today to govern in a way that delivers for you, that does not in any way undermine your rights and actually seeks to enhance your opportunities in Scotland to ensure that Scotland is truly that tolerant and pluralistic nation that we all want to see."
Ms Forbes said that people were "rightly scrutinising" who she was and what she believed.
She added: "I also think that in a pluralistic society, in a tolerant society, we can find a way to live together and to defend one another's rights.
"It's incumbent on me as a person of a minority community, somebody of faith to defend other minorities' rights and I hope that they might defend my rights too, that is truly the definition of a tolerant society."
Ms Forbes also confirmed that despite her faith, she would work on Sundays if she was appointed first minister.
She said: "The nature of the job is, of course, that it's 24/7. I recognise that. I hope nobody would begrudge me some hours off every week to be with family because I think that certainly makes for a more balanced life and hopefully better decision-making."
Related Topics
More on this story