Succession recap: season four, episode one – Logan gets a sex tape from Cousin Greg
While patricide plan B gets underway, the leggy princeling 'rummages to fruition' at his uncle's superbly squirm-inducing party. Welcome back, Roy-alists!Let a thousand sunflowers bloom, Romey. A 15-month wait and news that this would be the final season meant anticipation was higher than Cousin Greg after one of his first season bedroom bongs. Here's all the polling data from the curtain-raising episode, titled The Munsters … Continue reading...

Let a thousand sunflowers bloom, Romey. A 15-month wait and news that this would be the final season meant anticipation was higher than Cousin Greg after one of his first season bedroom bongs. Here's all the polling data from the curtain-raising episode, titled The Munsters …
Unhappy birthday to you
Season four began, like season one, at the birthday bash of the cardigan-clad mogul Logan Roy (Brian Cox). After that failed coup by three of his children, this party was less of a family affair. "The rats" were conspicuous by their absence. His wife, Marcia (Hiam Abbass), was "in Milan, shopping, for ever". Among a roomful of sycophants – "fucking Munsters", as our curmudgeonly host called them – there were too few political power players for Logan's liking. His sole confidantes were his "friend, assistant and adviser" Kerry (Zoe Winters) and his bodyguard, Colin (Scott Nicholson). Logan escaped with the latter for a stroll through Central Park, a meal and some existential musings about the afterlife.
Food aside, he had plenty on his plate. The deal to sell Waystar Royco to the tech mogul Lukas Mattson (Alexander Skarsgård) was going through in 48 hours. The US election was 10 days away. What really got the old warhorse's juices flowing, though, was his plan to acquire Pierce Global Media – the rival conglomerate he had been considering for years. He intended to add it to his Fox-News-alike network ATN (unwanted by Mattson) to form a new empire. Except this strategy was about to be derailed. Enter the rebel alliance …
Something old, something new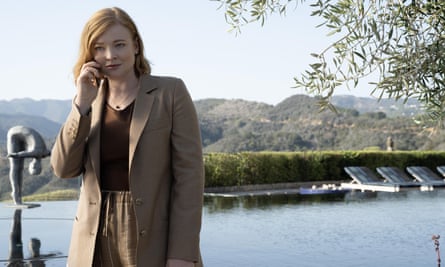 Over on the west coast, the next-gen Roys presented a united front for once. At a modernist mansion outside Los Angeles, they were meeting potential Saudi investors in their new media venture, TheHundred. Not to be confused with the gimmicky cricket tournament, this was "a one-stop info shop for smart people". "It's Substack meets Masterclass meets the Economist meets the New Yorker," mumbled Kendall (Jeremy Strong) from beneath his baseball cap.
Their heads were turned when Shiv (Sarah Snook) got a call from her estranged husband, Tom (Matthew Macfadyen), and rumbled their father's acquisition of Pierce. Should they forget their startup and scupper their dad's deal? Kendall wanted to shaft Logan. Shiv wanted to shaft Tom. Roman (Kieran Culkin) reluctantly came onboard. Patricide Plan B was go. Scramble the PJs.
'Did you rummage to fruition?'
Oh, Cousin Greg (Nicholas Braun). The leggy princeling had turned lecherous ladies' man, but goofed by bringing an uninvited plus-one to Logan's party. "What's her full name?" snapped Kerry. "Is it Bridget Randomfuck? Is she from the apps? How do you know she's not a hostile corporate asset?" As Tom mocked her "ludicrously capacious" Burberry bag, Bridget had the temerity to use bathroom towels, eat canapés and make conversation. Enough was enough when she asked Logan for a selfie, although sadly this occurred off-camera.
Before she was ejected, she and Greg found time for a fumble in a guest bedroom. Big mistake. Logan's Upper East Side duplex was rigged with CCTV cameras. "You've accidentally made him a sex tape," crowed Tom. Cue Greg gallantly blaming Bridget and Logan cracking gags about smelling his finger. Succession aficionados have long tipped Greg for greatness. He looks several gargantuan handbags away from that.
A Roy-al wedding
With the election looming, spare part sibling Connor (Alan Ruck) was fretting on his presidential ambitions. He was polling at 1%, but even his "Conhead" supporter base was looking wobbly – he needed to spend big on media coverage.
You could almost hear the cogs clanking as he had a brainwave. Why not exploit his impending nuptials to Willa (Justine Lupe) to seize some much-needed attention? How about marrying underneath the Statue of Liberty with a brass band and assorted hoopla? "It's dumb, but I always wanted a nice wedding," eye-rolled Willa, increasingly a scene-stealer.
Rats 1 King 0
"I feel like we're in the middle of a bidding war," said the pearl-clutching matriarch Nan Pierce (Cherry Jones). That's because you are, babes. At the Pierces's swish holiday home, the siblings laid out their offer. Their financing was "robust", but they wouldn't "take your properties and roll them in the dirt" like evil pater. With Logan and his lieutenants at the other end of a phoneline, he was on the back foot for once. He tried to lighten the mood by getting his inner circle to give him a "roasting", but, understandably, they were all too terrified. The king was missing his court jester, Roman.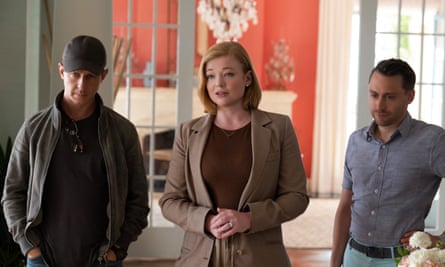 The contrast between the genteel Pierces, who pretend not to care about money, and the venal Roys, who care about little else, was beautifully portrayed once again. There was a tense back-and-forth before the siblings shook hands on the $10bn price Nan wanted all along. Low on blood sugar, Logan barked: "Congratulations on saying the biggest number, you fucking morons." Ken and Shiv were jubilant. Roman had reservations. Too late, Romulus. Get ready to rumble.
Shark-eyed Shiv and Turncoat Tom were months into a trial separation. She had been busy dreaming up TheHundred, jetting to Dubai and having "talks about talks". He had been busy dating models and buttering Logan's beanpole. When Tom, in a superbly squirm-inducing scene, asked pop-in-law if his position would still be secure post-divorce, Logan's grunted reply ("if we're good, we're good") was ominously non-committal.
When Shiv returned to their Broadway apartment to collect some clothes, she and Tom quietly agreed they had reached the end of the road. There were hints in the season three finale that Shiv might be pregnant, but no sign here. Was a miscarriage or abortion among the things Tom wanted to discuss but Shiv definitely didn't?
We ended on an affecting note, as they held hands while lying at right angles (visual metaphor alert) and wistfully sighed that they had "given it a go". It's Mondale the labradoodle I feel sorry for. Cut to Logan, giving ATN an armchair bollocking about their midnight bulletin. There's fight in the old dog yet.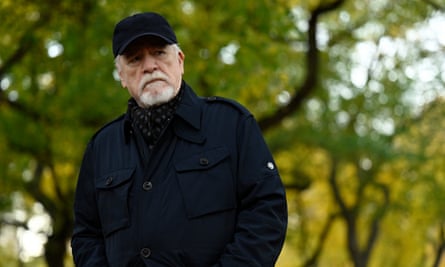 The heir apparent
Tom is closest to Logan, but neither his deal-making nor impending divorce will impress. Shiv and Kendall are in the ascendant.
Line of the week
I enjoyed Roman's "Dad could be twisting our turnips, playing the old fuck trombone", Logan's "ballsack in a toupée" and Shiv "checking in at Grey Gardens, going Mano a Nano". But my prize goes to their summary of the paternal state-of-play. Roman: "We're fine, it's just a complicated private situation." Shiv: "Whereby we all hate him."
Notes and observations
That sepia title sequence was subtly tweaked, with a shot added of the StarGo app (complete with slow loading). Fleetingly glimpsed ATN headlines were: "China hack could see 40 million Americans entombed in their electric cars", "Deep state blunder: classified docs displayed on NBA jumbotron" and "Man with bird flu can't stop thinking of ducks".

Poor Naby the investor, getting off a 16-hour flight to be frisked by racist security guards, then repeatedly made to wait.

Greg and Tom dubbing themselves "The Disgusting Brothers" echoed the "El Dude Brothers" in Jesse Armstrong's 00s co-creation Peep Show. Party time! Ehhh! God, life is futile.
No bingeing here, Roy-alists. Episode two airs next Monday, so rejoin us here afterwards for more "internecine family concerns and personal title-tattle". In the meantime, Munsters, please leave your thoughts and theories below …